Vivian Eleanor Hagen, age 101, of Livermore CA, died February 1, 2022.
Vivian was born August 22, 1920, in Salem, South Dakota to Louis and Hildur Jacobson.  She moved with her family to rural Pelican Rapids in 1924, where they farmed in Lida township.
Vivian married Carl Edward Hagen Jr. in 1942.  The couple moved to California after WW2 and settled in Alameda, CA.  Between the years 1948 and 1960 they had 5 children: Paul, Douglas, Edward, Linda, and James.  The family would often return to Minnesota to visit family and friends. 
Vivian will be remembered for her strength of spirit and love of flowers.  For many years her home was filled with a variety of happy plants. Her favorites were her beautiful African violets. 
She is survived by her children Paul (Mimi), Truckee CA; Douglas, Jackson WY; Linda (Henry), Salem OR; James, Livermore, CA; and daughter-in-law, Beth Cornell Hagen.   She also leaves behind 5 grandchildren, 3 great-grandchildren and numerous nieces and nephews. 
Vivian was preceded in death by her husband Carl, her son Edward, her parents Louis and Hildur, brothers Francis and Alvar, and sister Grace Drayton. 
Please keep Vivian's family in your thoughts and prayers.
Memorial Service: 9:30 a.m., Sunday, June 19, 2022, during the worship service at Grove Lake Lutheran Church, Rural Pelican Rapids, Minnesota.
Clergy:  Pastor Clay Ellingson and Pastor Ed Anderson
Interment: Grove Lake Cemetery, Rural Pelican Rapids, Minnesota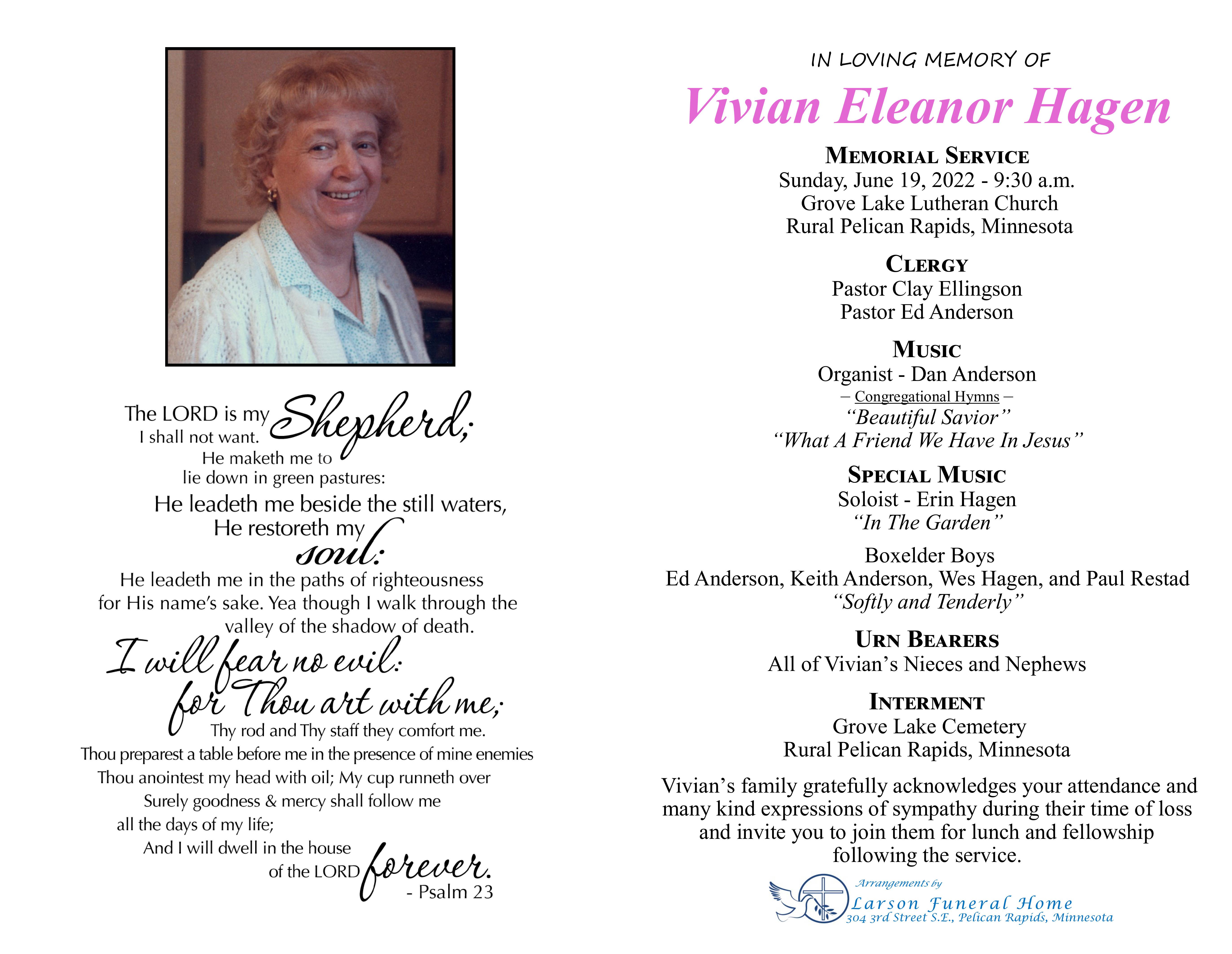 Vivian Hagen's Memorial Folder