Norris "Windy" Ferm, age 95, of Erhard, MN died Sunday, July 10, 2022, at Good Samaritan Society, Battle Lake, MN.
Norris was born October 26, 1926, in Bowbells, ND, to Talus and Elma (Lundquist) Ferm.  He attended school in Bowbells through the 8th grade.  "Windy" lived in the Flaxton area where he broke broncos. He enlisted in the U.S. Army Air Core and served from 1945-1947.  After serving in the military, he moved to Canby, MN and worked as a baker. He moved to the Fergus Falls area and worked at the concrete block factory in Fergus Falls, MN.  "Windy" mowed ditches for the county and worked for Ripley's Incorporated. For many years he worked as a farm hand for Melvin Stensrud.
His hobbies were hunting, fishing, trapping, and following professional bull riding. "Windy" enjoyed reading, especially hunting & fishing magazines and Louis L'Amour & Zane Grey books. He would gather wild grapes, chokecherries, crabapples, highbush cranberries and his "Maplewood hot women" would make jam and jellies from them.
He is preceded in death by his parents and good friends: Richard Milbeck, Bud Harles, and Clifford Norgren.
Visitation: Sunday, July 17, 2022, from 2:00 p.m. to 4:00 p.m. with a Prayer Service at 4:00 p.m.at Larson Funeral Home, Pelican Rapids, MN.  Visitation will continue one hour prior to the service at the church.
Service: 11:00 a.m., Monday, July 18, 2022, at Maplewood Lutheran Church, Erhard, Minnesota.
Burial: Maplewood Presbyterian Cemetery, Erhard, Minnesota.
Clergy: Pastor Eric Schwirian
Full obituary will be coming soon.
Please keep Windy's family in your thoughts and prayers.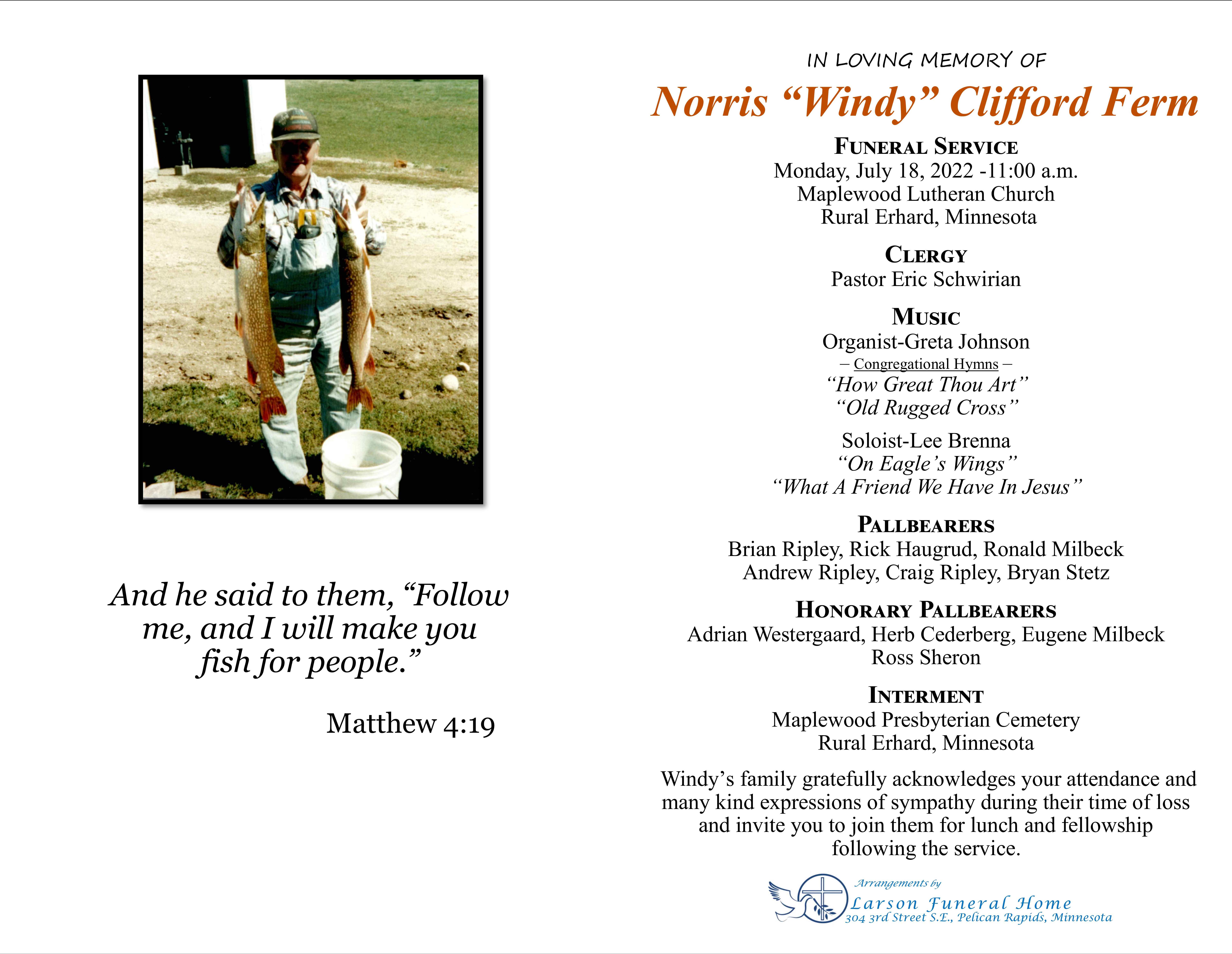 Norris "Windy" Ferm's Memorial Folder