Mavis Budke, 84, a resident of Pelican Rapids passed away on Sunday, September 11, 2022, at the Pelican Valley Senior Living.
Mavis Julia was born July 9, 1938, in Fergus Falls, MN to Ferdinand and Alice (Jacobson) Lehman.  She was baptized and confirmed at Foxhome Lutheran Church. In 1956 Mavis graduated from Breckenridge High School.
Mavis was united in marriage with Roy Budke on June 8, 1956, at Foxhome Lutheran Church.  Mavis and Roy lived in the Foxhome area until 1959 upon moving to Carlisle where they farmed until 1965. Then they moved to the Pelican Rapids area and farmed until 1987. In addition to helping on the farm, Mavis worked as a waitress at the Pelican Supper Club for 22 years and also waitressed at Auntie Ev's, Rapids Café, and Mill Pond Café. Roy died on November 24, 1995.
Mavis was a former member of Foxhome Lutheran Church, Hedemarken Lutheran Church in Rothsay, and present member of Faith Evangelical Lutheran Church in Pelican Rapids. She was very active in the church circle, Sunday School teacher, and a Superintendent of Sunday School. Mavis enjoyed baking, cooking, gardening, making donuts, but most of all spending time with her children, grandchildren, and great-grandchildren. Anybody that ever ate with Mavis, knew she would have to send home food with you.
Mavis is survived by her daughter Gina Budke (Randy Stallman) with their children: Jeremiah (Paige) Lieb, Chad (Rachel) Stallman, Nichole (Andy) Urton, daughter Lisa Kugler with her children: Jason Draack and Alison (J.J.) Herron, daughter Cindy (Richard) Treichel with their children: Colin (Bethany) Berg, Lucas (Allison) Berg, and Scott Treichel; and son Troy (Tatum) Budke with their children: Taylor (Brittany) Budke and Tanner (Kelsey) Budke; great-grandchildren: Parker, Berkley, Evelyn, Lucy, Nova, Lance, Jayde, Kadie, Anova, Topenga, Taylor, Jack, Henry, Gavin, Kale, and Zander. sister Janelle (Brent) Hanson; sisters-in-law: Ervena Budke and Renee Budke; many nieces and nephews; and best friends Roberta (Tommy) Hought.
She is preceded in death by parents; husband Roy; sister Geraldine (Jerome) McLaughlin; sister and brother-in-laws, Ann (Jim) Hasbargen, Myrt (Cyril) Keller, H. Donald (Kathy) Budke, Mervin Budke, Rosemary (Donald) Rassmusson, Marcella Budke, and Jerry Budke; sister-in-law Joann (Errol) Kugler; granddaughter-in-law Rebecca Draack.
Visitation 10:00 a.m. to 11:00 a.m., on Thursday, September 15, 2022, at Faith Evangelical Lutheran Church in Pelican Rapids.
Memorial Service: 11:00 a.m., Thursday, September 15, 2022, at Faith Evangelical Lutheran Church with Pastor Alex Ohman officiating.
Interment will be at Tonseth Lutheran Cemetery near Erhard, MN.
Please keep Mavis' family in your thoughts and prayers.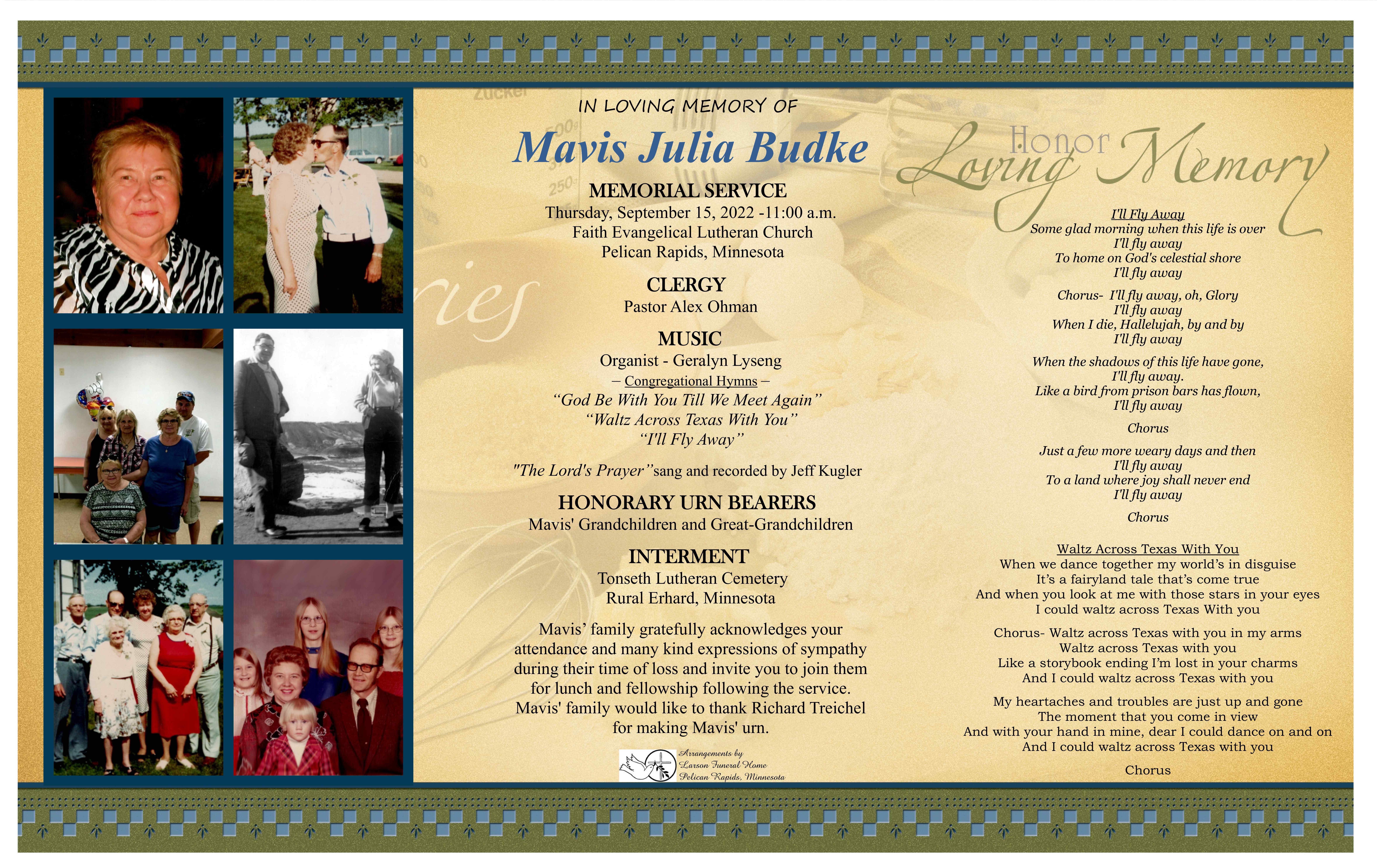 Mavis Budke's Memorial Folder