Mary Kay (Walz) Isaacson, age 82, of Pelican Rapids, MN, died Monday, February 21, 2022, at home surrounded by her family.
Mary Kay was born March 11, 1939, in Detroit Lakes, to Norman and Kathryn (Fasching) Walz.  She was baptized, confirmed, and attended school at Holy Rosary Catholic Church in Detroit Lakes and graduated from Detroit Lakes High School in 1957.  After high school, she attended the University of North Dakota graduating with a Nursing Degree in 1960.
On August 27, 1960, Mary Kay married Vern Isaacson at Holy Rosary Catholic Church.  They moved to Moorhead where she worked at St. Ansgar Hospital until moving to Sheboygan, WI in 1962 where she continued her career as an RN while raising her family until they moved back to Minnesota.  In 1969, they made their home in Thief River Falls, MN, where she worked as a labor and delivery nurse at Northwest Medical Center.  She taught in the LPN program at the Technical College in Thief River Falls until her retirement in 1999.  They spent summers at their cabin on Lake Lida near Pelican Rapids and winters in the Phoenix, AZ area.  In 2014 they moved to Pelican Rapids.
Mary Kay enjoyed the sun, shopping, being at the lake on her pontoon aptly named "Bub's Barge", spending time with family and friends (especially her "Sweet 16" group from high school), happy hour with her husband, traveling, playing Bridge, and their 20 winters in Arizona.  She took golf lessons and even briefly played in a league, but didn't enjoy it so much.  She was always kind to everyone, elegant, beautiful, and always put together!  She attended St. Bernard's Catholic Church in Thief River Falls, and a member of Women's Circle.  In keeping with her profession and giving spirit, she unselfishly donated her body for scientific research at the Mayo Clinic.
Mary Kay is survived by husband of 61 years Vern Isaacson; children: Beth Mason, Eden Prairie, MN, Mark (Robyn) Isaacson, Maple Grove, MN, Jill (Jim) Dillon, Park Rapids, MN, and Amy (Nick) Chiodo, Detroit Lakes, MN; 10 grandchildren; six great-grandchildren; siblings: Frank (Alice) Walz, Tom (Betty) Walz, Pauline (John) Morris, Bill (Cindi) Walz; and many cousins, nieces, nephews, and friends.
She is preceded in death by her parents; sisters: Louise Borstad, Margaret Wallace, and infant brother John Walz.
Memorials preferred to Hospice of the Red River Valley or The ALS Association Minnesota/North Dakota/South Dakota Chapter.
Visitation will be 11:00 a.m. to 12:00 noon, Friday, May 6, 2022, at Holy Rosary Catholic Church, Detroit Lakes, MN with a Celebration of Life to follow at 12:00 noon with Father Chuck Huck officiating.
Please keep the Mary Kay's family in your thoughts and prayers.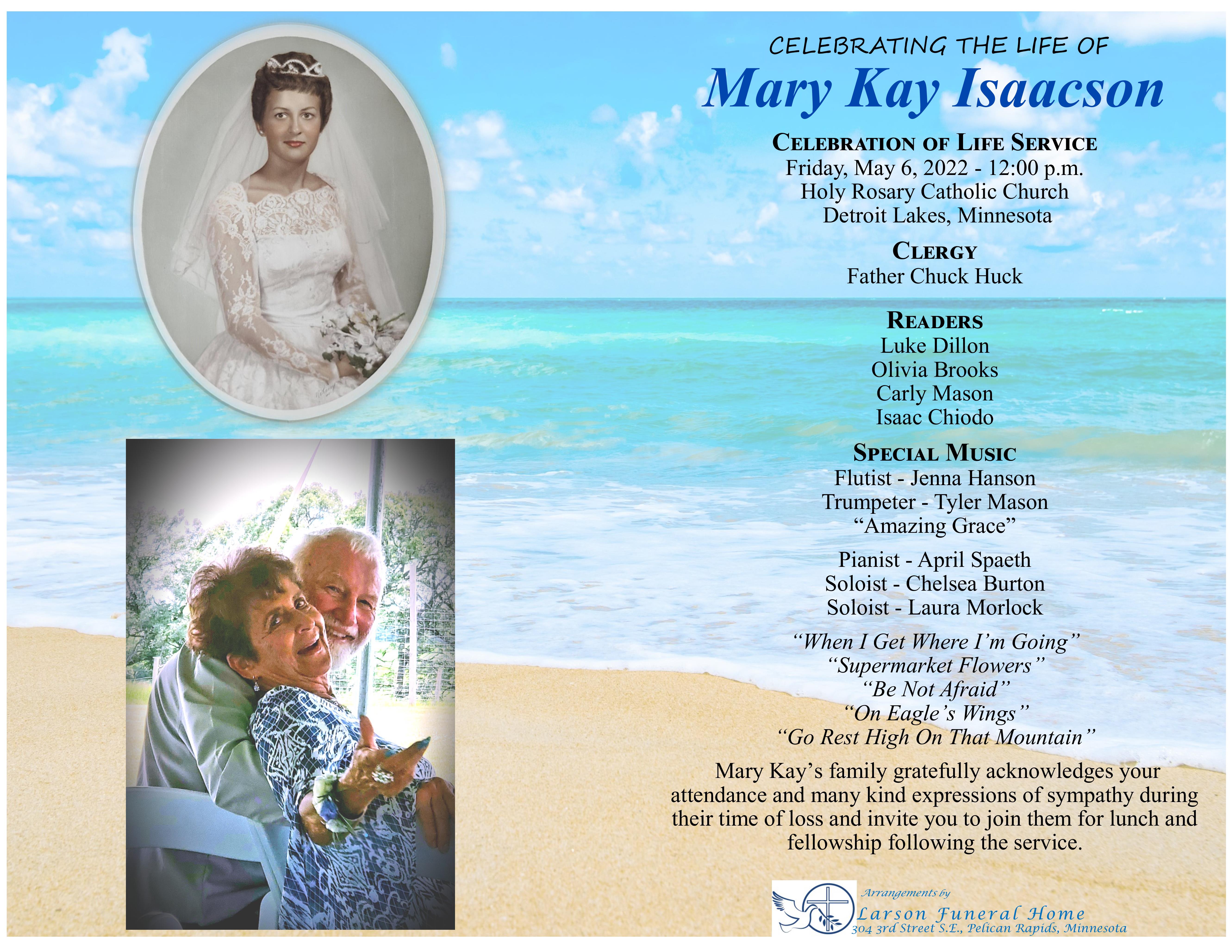 Mary Kay Isaacson's Memorial Folder