Marlene Jane Castonguay, 68, passed away peacefully at Essentia Health in Fargo, North Dakota on February 9, 2022, under palliative care after a long courageous battle with cancer.
Marlene Jane was born November 8, 1953, in Pelican Rapids to Jay and Ruby (Nelson) Hagen. Marlene was baptized and confirmed at Grove Lake Lutheran Church near Pelican Rapids. She graduated from Pelican Rapids High School in 1972. After graduation, Marlene was employed at Productive Alternatives where she met Lyle Castonguay. Marlene and Lyle later married on May 8, 1976, in Rapid City, South Dakota at the Black Hills Gospel Church. Later Marlene and Lyle made their home for many years in Bemidji.
Marlene enjoyed fishing, visiting casinos, family, and taking care of her dogs. She was a quiet and tenderhearted person.
Marlene is survived by five brothers: Roger Hagen, Gordon (Ardella) Hagen, Ervin (Hollie) Hagen, Rodney (Jill) Hagen, Wesley (Renee) Hagen, numerous nieces, nephews, and cousins.
She is preceded in death by parents Jay and Ruby Hagen, her husband Lyle, and sister-in-law Mary Hagen.
Memorials preferred to Grove Lake Lutheran Church.
Please keep Marlene's family in your thoughts and prayers.
Memorial Service is at 9:30 a.m., Sunday, June 19, 2022, during the worship service at Grove Lake Lutheran Church, Rural Pelican Rapids, Minnesota.
Interment: Grove Lake Lutheran Cemetery, Rural Pelican Rapids, Minnesota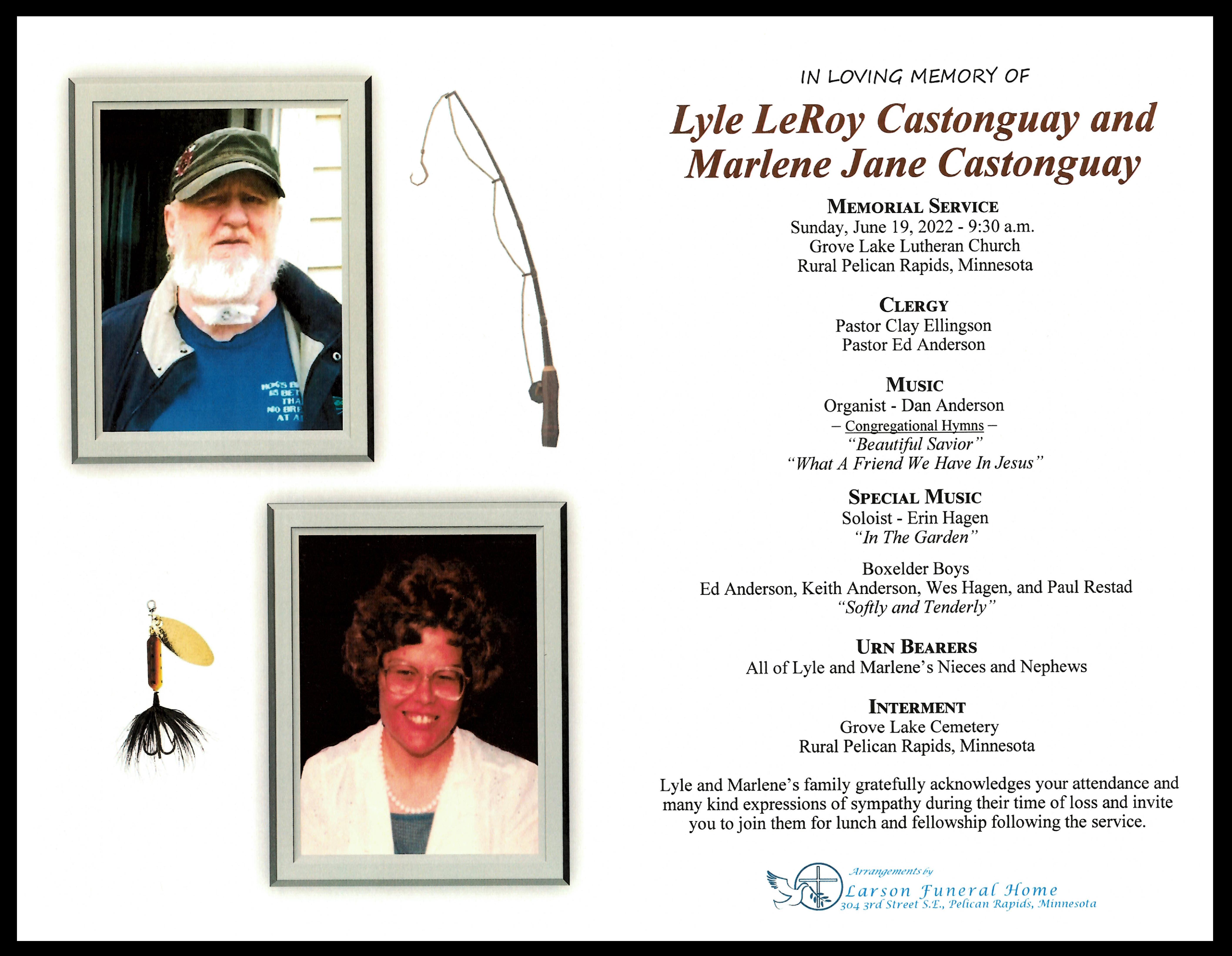 Marlene Castonguay's Memorial Folder