Memorial Service will be 2:00 p.m., Friday, July 15, 2022, at Zion Lutheran Church on Franklin Lake with Pastor Gary Erdmann officiating. Visitation will be one hour prior to the service at the church.  Face mask are highly recommended.

To watch Jim's service live streamed please go to Zion Lutheran Church, Pelican Rapids Facebook page.
LeRoy James (Jim) Fiedler passed peacefully on June 14th, 2022 at his home on Lake Franklin, Pelican Rapids, MN. Jim was born on May 22nd, 1942 to Wilhelm (Bill) T. Fiedler and Elsie Ella (Schaible) Fiedler in Mott, ND.
Jim attended Mott High School in Mott, ND, 1961; he attended North Dakota State University in Fargo. Following, Jim worked at Hornbacher's; Pioneer Rim and Wheel; Olan Mills where he met is loving wife Betty Moen. Following Olan Mills both Jim and Betty worked at Team Industries of Audubon, MN. After retirement, Jim delighted in cooking for Meals on Wheels.
As husband, father, grandfather, Jim was a quiet, loyal, trustworthy man with a great sense of humor whose faith and love for the Lord was evident in his gentle manner, patience and easy-going nature. Jim was deeply loved by his family and close friends. He will be dearly missed.
Jim's hobbies were fishing, cooking, NDSU football (Go BISON!) and his family. Jim loved his country and stayed up to date on his politics.  He passed away on flag day.  As a grandpa, Jim loved his family, grandchildren: Morgan and Michael children of Allison; Brittany, Emily, Alexis, and James, children of Marshall and Gina; and Danielle-Marie daughter of Ron and Jayne, step grandchildren and great-grandchildren: Antonio/Jacqueline Dubois Diaz with Alexander, Evelyn Diaz; and Dominique Dubois.
Jim is survived by his loving wife of 34 years Betty (Moen) Fiedler, his three children, Jayne (Ron) Dubois of Brentwood, TN; Allison Fiedler and Marshall (Gina) Fiedler of Great Falls, MT; and his sister, Donna Kramer of Bismarck, ND in addition to his two nieces, four nephews and lots of Moen family.  He was preceded in death by his parents, and his sister, Mary (Fiedler) Schneider.
Please keep Jim's family in your thoughts and prayers.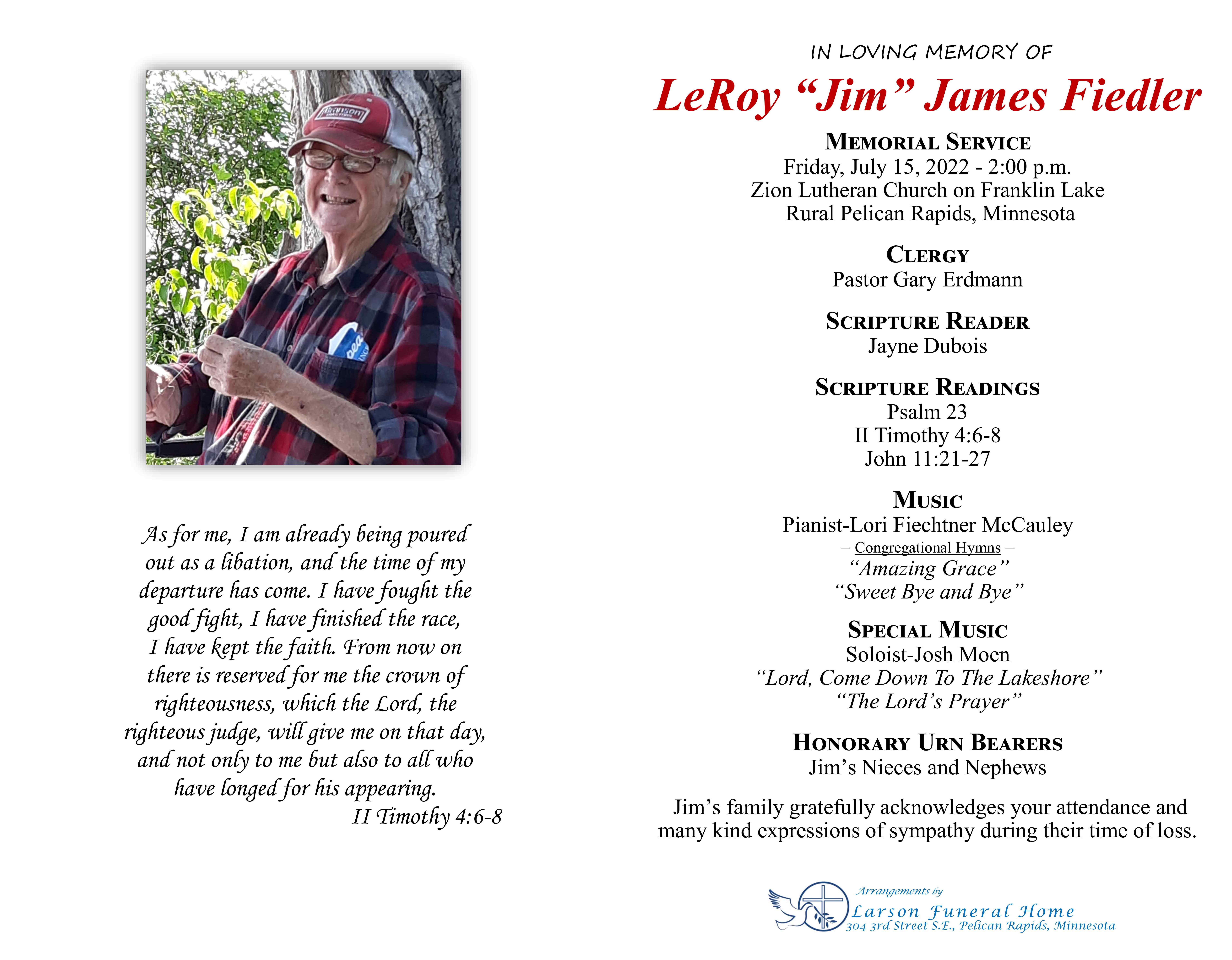 LeRoy "Jim" Fiedler's Memorial Folder