LaDonna Fjestad, age 88, a resident of Pelican Rapids, Minnesota, died on Wednesday, August 3, 2022, at Riverfront on Main, Pelican Rapids, Minnesota.
LaDonna V. Sorum was born August 18, 1933, in Pelican Rapids, the daughter of Bennett T. and Muriel C. (Wick) Sorum.  She grew up in Maplewood Township, east of Pelican Rapids.  LaDonna was baptized at Maplewood Lutheran Church and confirmed at Ringsaker Lutheran Church.  She and her family moved to Ogden, Utah, during the war, returning in 1946.  LaDonna graduated from Pelican Rapids High School in 1951.  She attended nurses training at St. Luke's Hospital in Fargo, North Dakota, graduating in 1954.  Three days after graduation, on September 11, 1954, she was united in marriage to Ordean Fjestad at Trinity Lutheran Church in Pelican Rapids.  In 1956, they moved back to Pelican Rapids where she worked at the hospital (Pelican Valley Health Center) for 30 years as a registered nurse.  She retired in 1989 to care for her husband.  Ordean preceded her in death in September of 1992.
LaDonna's passion in life was her quilting, which she did every time she got the chance.  She made quilts for family and friends, baby quilts for newborns in Pelican Rapids, and she seasonally placed a quilt at Pelican Valley Nursing Home.  She was a member of the mission quilting group.
LaDonna was a member of Trinity Lutheran Church where she was active in circle, ladies-aid, and volunteer work.   She also made quilted banners for the church.
LaDonna is survived by her son, Richard "Rick" (Bonita) Fjestad, Fargo, ND; and daughter, Lisa (Dennis) Ouren, Pelican Rapids, MN; grandchildren:  Rochelle (Jon) Fjestad-Byklum, Brady Ouren, and Jake (Mikayla) Ouren; great-grandchildren:  Matia, Aubrey, and Ledger Fjestad-Byklum; brothers:  Marlin Sorum, AZ, and Wally Sorum, Grantsburg, WI; brother-in-law Harry Anderson, Burnsville, MN; and many nieces and nephews.
She was preceded in death by her parents, Bennett and Muriel; husband, Ordean; and sisters, RoMayne OKeefe and LaVaine Anderson; daughter-in-law Becky Fjestad.
Please keep LaDonna's family in your thoughts and prayers. 
Visitation: One hour prior to service at the church.
Service: Monday, August 8, 2022 at 11:00 a.m. at Trinity Lutheran Church, Pelican Rapids, Minnesota
Clergy:  Allen Westby, S.A.M.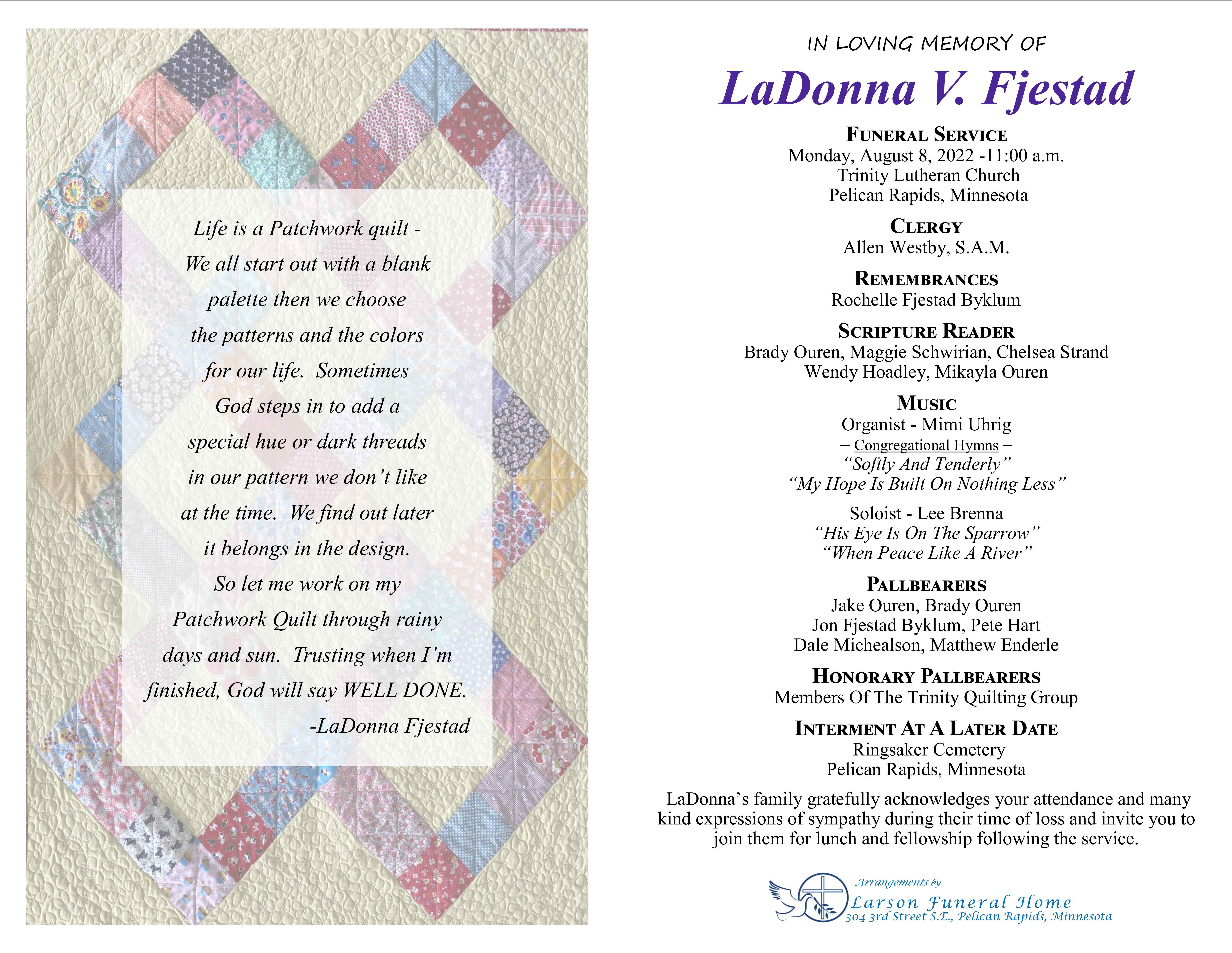 LaDonna Fjestad's Memorial Folder