Erwin Leigh (Lee) Field, 86 years old, passed away August 22, 2022, at the Fergus Falls Veterans home surrounded by his family. 
Lee was born January 7th, 1936 in Maine Township, Otter Tail County to Erwin and Lila (Nelson) Field.  He grew up in Star Lake township and enlisted in the Air Force in late 1954.   After basic training at Parks Air Force base in California, he went to Scott Air Force Base in Bellville Il for ground communication training and Andrews Air Force base for survival training.  He was then stationed in North Africa, French Morocco for two years specializing in setting up radio communication and air to ground transmission.  He finished his service at the Bolling Air Force Base near Washington DC. 
On April 19th, 1958, he was united in marriage to Sylvia Nelson of Pelican Rapids.   They farmed in Star Lake township and he was also an over the road truck driver, employed by International Transport and Minn-Dak Transport.   Over the course of their marriage, Lee and Sylvia had 6 children.    They later divorced. 
During his time as a truck driver, Lee developed heart problems and underwent open heart surgery.   In March 1998, he received a heart transplant.  He had lived with his new heart for over 24 years.   Late 2017, Lee moved into the Fergus Falls Veterans home where he received excellent care and enjoyed socializing with other residents.    He was very proud of being a Veteran and serving his country.  In May of 2018, he participated in the Honor Flight program and was able to tour our nation's capital with other veterans. 
Gardening, flea markets, family history and collecting old tractors were some of his favorite past times.  
Lee is survived by his children: Lyndon (LeAnn) Field of Dent, William (Karen) Field of Erhard, John (Lisa) Field, Lori (Tom) Olson of Pelican Rapids, and Jenny (John) Opheim of Maine.   Grandchildren: Levi (Misty) Field, Perry (Courtney Thorson) Field, Ryan Field, Eric Field, Mitch Field, Benjamin (Karlea) Field, Amanda Field, Anna Hinsverk, Emily Olson, Kristopher Olson, and Dillon Stave.   Great Grandchildren: Dane and Brekken Field (Levi's), Crew and Paxton Field (Perry's) and Aubrey Field (Ben's).  Step Grandchildren:  Samantha (Richard) Richter and Colton (Abrial Brady) Opheim, and Step Great-Grandchild Alex Person.  Sisters:  Joan Bugbee of Underwood and Cindy (Dave) Strand of Pelican Rapids, and many nieces, nephews, and friends.
He was preceded in death by his parents, a son Anthony (Tony) Field, siblings Victor Field and Judy Wiese, and a great-granddaughter Lyla Rae Field.    
God bless the memory of Erwin Leigh Field. 
Visitation: Thursday, August 25, 2022, from 5:00 p.m. to 7:00 p.m. with a Prayer Service at 7:00 p.m.at Larson Funeral Home, Pelican Rapids, Minnesota.  Visitation will continue one hour prior to the service at the church.
Memorial Service: 2:00 p.m., Friday, August 26, 2022, at Maine Presbyterian Church, Maine, Minnesota.
Clergy:  Reverend Bob Kersten
Interment: Silent Vale Cemetery, Maine, Minnesota.
Please keep Lee's family in your thoughts and prayers.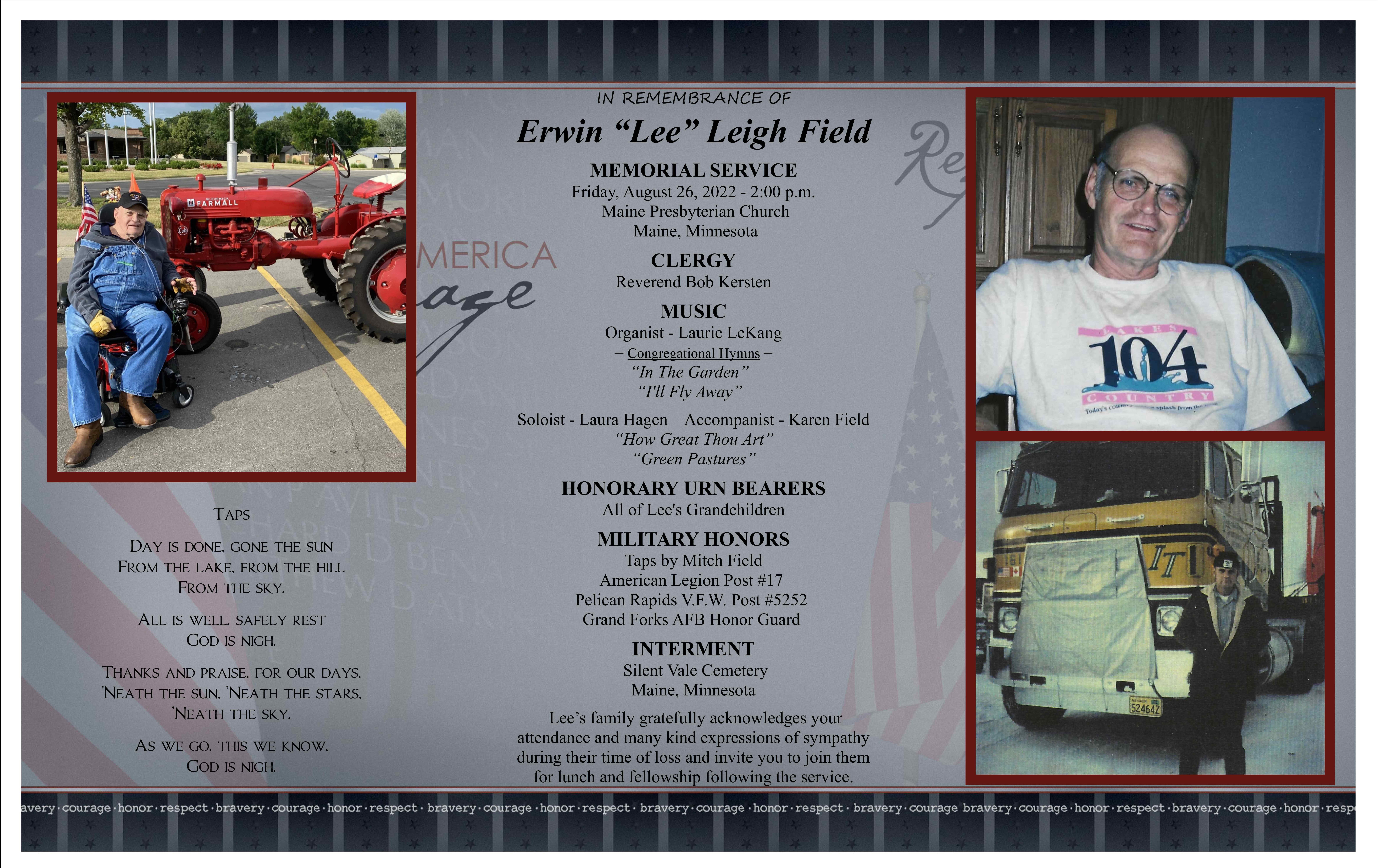 Erwin "Lee" Field's Memorial Folder