Eileen Barbara (Seifert) Ormsby, age 92, of Pelican Rapids, MN, died Tuesday, May 10, 2022, at Pelican Valley Senior Living in Pelican Rapids.  
Eileen was born April 23, 1930, in Pelican Rapids, MN to Walter and Alpha (Johnson) Seifert.  She graduated from Pelican Rapids High School in 1948.  She attended Moorhead State Teachers College and taught school at District #12 in Barnesville in 1950-51.   
On June 30, 1951, she married Stanford Henry Thompson.  They farmed rural Barnesville for several years.  During this time two children Stewart and Sharon were born.  When their barn burnt Eileen's mom and dad wanted them to come live and help with work and planting.  In 1956 they moved to Lancaster, CA where Pamela and Diane were born.  Eileen received her BA Degree from the University of CA at Northridge driving once a week at night while teaching and raising a young family.  She taught for 23 years in Lancaster.  Stanford passed away August 1, 1976.   
On December 20, 1980, she married Willard Ormsby.  They lived in Lancaster until 1990 when they moved to Lake Lizzie, Pelican Rapids.  They loved to travel and had been to all 50 states, plus Europe, Mediterranean area, Scandinavian countries, and Tahiti.  They also loved fishing.  Willard passed away March 18, 2004. 
Eileen was an active member of Grove Lake Lutheran Church being baptized, confirmed, and married there.  She was active in Luther League, LDR, Ladies Aid, and Circle. 
She is survived by her son Stewart Thompson, Pelican Rapids; daughters: Sharon DeShane, Palmdale, CA, Pamela (John) Lovett, Prairie Grove, AR, Diane (Derrick) Greenwood, Prairie City, OR; grandchildren: Jennifer (Noah) Snodgrass, Melissa (Brian) Gorrindo, Kristen (Seth) Helton, Laura DeShane, Heather Mathews, Johnny (Stephanie) Lovett, Janelle (Jonathan) Gibbs, Brittany (Dave) Stark; great-grandchildren: Dahlia Snodgrass, Anthony and Sophia Gorrindo, Thomas and Kayla Helton, Blaine and Tucker Matthews,  Kyleeh, Tannen, Amelia. and Blakley Lovett, Josiah, Jenna, and Joy Gibbs, Levi, Wyatt, and Austin Stark. 
She is preceded in death by her parents Walter and Alpha Seifert; husbands Stanford Thompson and Willard Orsmby; and two brothers Walter Jr and Milton Seifert, sons-in-law Mark Lawrence and Raymond DeShane. 
Memorials preferred to Grove Lake Lutheran Church or Churches United.
Funeral Service: 11:00 a.m., Monday, May 23, 2022, at Grove Lake Lutheran Church, Pelican Rapids, Minnesota with Pastor Clay Ellingson officiating. Visitation will be one hour prior to the service at the church
Burial: Grove Lake Cemetery, rural Pelican Rapids, Minnesota
Please keep Eileen's family in your thoughts and prayers.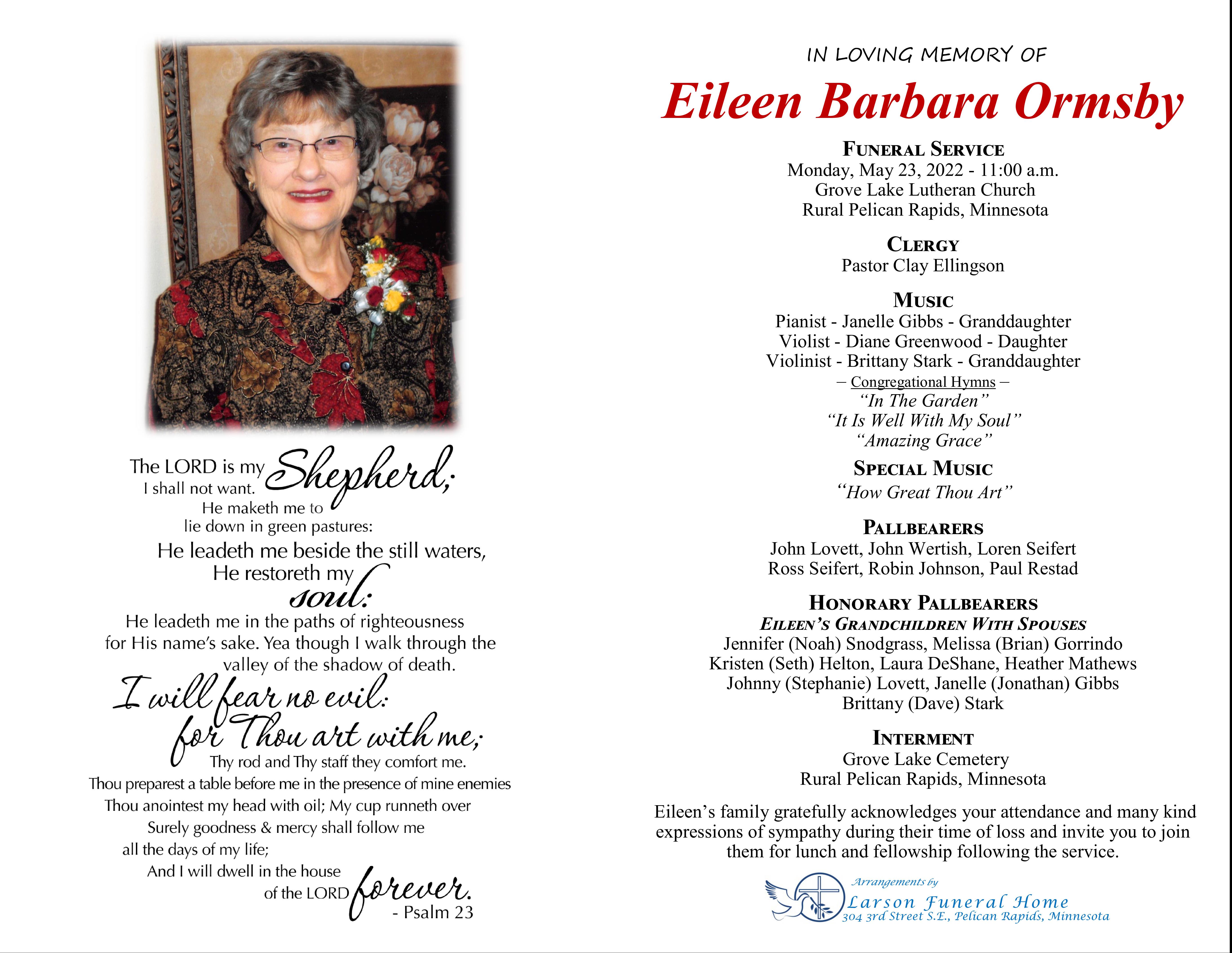 Eileen Ormsby's Memorial Folder
If live stream does not work, please know we will have a recorded version on obituary page at a later time.