Earl Carlson, age 79, of Pelican Rapids, MN, unexpectedly passed away Friday, September 23, 2022, in Pelican Rapids, MN.
Earl Russel was born on June 7, 1943, to Helge and Lillian (Rud) Carlson in Pelican Rapids, MN.  He was baptized and confirmed at Central Lutheran Church near Pelican Rapids, MN.  Earl graduated as valedictorian from Pelican Rapids High School in 1961. He served in the United States Air Force National Guard.
On August 18, 1974, Earl married Sondra Rae Alberty at United Methodist Church in Perham, MN. For many years, Earl farmed on the family farm and the Alberty farm near Star Lake, Dent, MN. In addition to farming, Earl worked at Henry Building Systems for a couple years, Egge Construction for 15 years, MVM Contracting in Fargo, ND, for 2 years and the city of Pelican Rapids.  
Earl was a lifetime member of Central Lutheran Church and very active in various church activities. He enjoyed visiting with friends and family and could tell you the history of most local families.  He liked watching the Pelican Rapids Vikings basketball and football teams.  He enjoyed his annual trips to the Minnesota State Fair.  He also took pleasure in square dancing.  He also enjoyed working with his front-end loader.  Earl was known for his good sense of humor.  In honor of Earl, please wear orange and black to the visitation and the funeral service.
Earl is survived by his children: Cory Carlson (Lori Erickson), Pelican Rapids, Dace Porter, Fayetteville, NC; three grandchildren: Mason, Grant, Dasha; one great-grandchild; sister-in-law Sandra (Bob) Kawleski; and nieces and nephews.
He is preceded in death by his parents, wife Sondra, sister Janet Doty, and in-laws Raymond and Coral Alberty.
Visitation: Friday, September 30, 2022, from 1:00 p.m. to 2:00 p.m. at Central Lutheran Church, Pelican Rapids, Minnesota.
Celebration of Life: 2:00 p.m., Friday, September 30, 2022, at Central Lutheran Church, Pelican Rapids, Minnesota with Pastor Phil Tobin officiating.
Interment: Central Lutheran Cemetery.
Please keep Earl's family in your thoughts and prayers.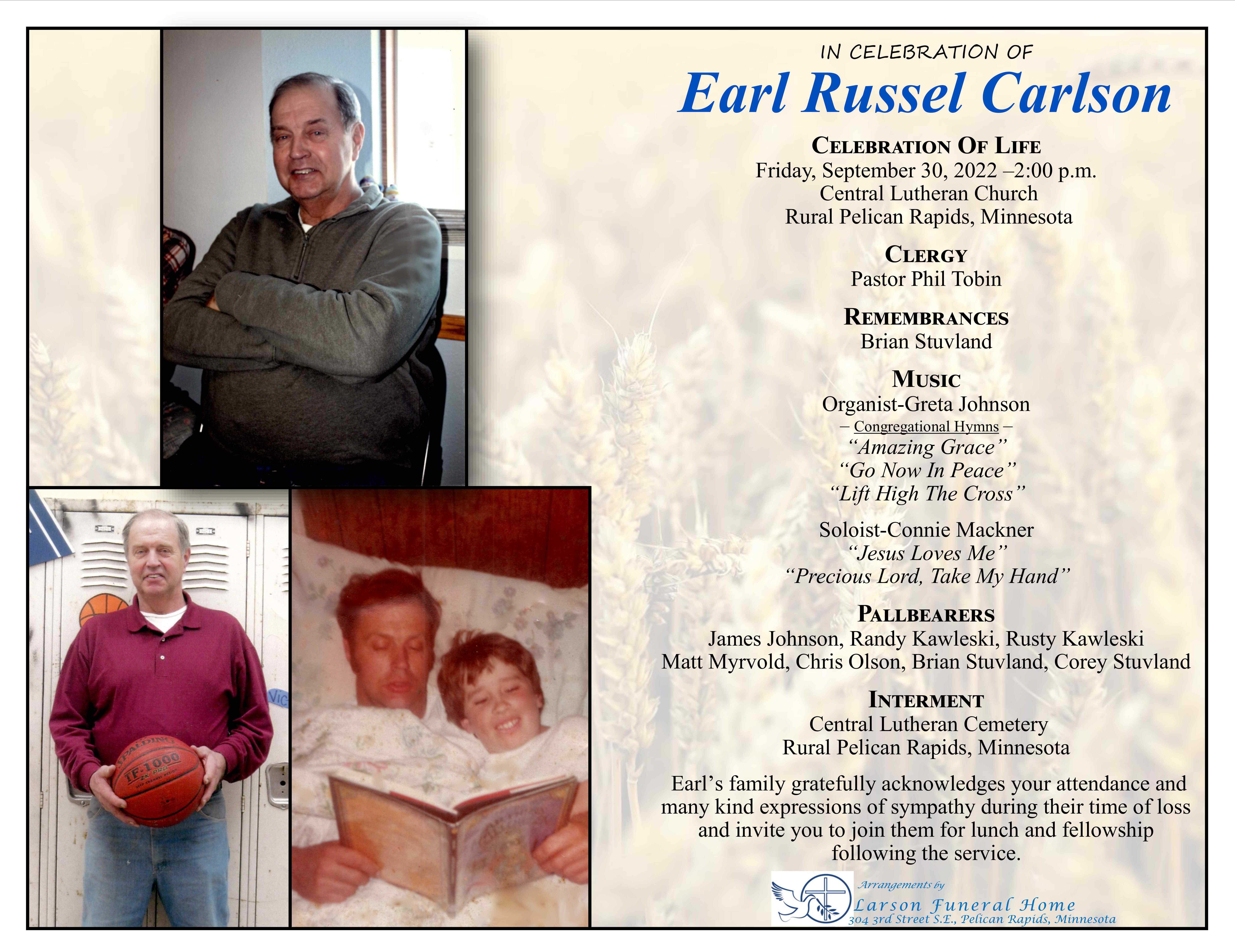 Earl Carlson's Memorial Folder