Dennis Bauman, 87, of Erhard, Minnesota passed away Tuesday, August 2, 2022 surrounded by his family at the Pelican Valley Nursing Home in Pelican Rapids, Minnesota.
Dennis Verney Bauman was born May 22, 1935 to Verney and Myrtle (Shol) Bauman in Friberg Township of Ottertail County.  His early years were spent living and working in this same area.
He was united in marriage on September 6, 1954 to Adeline Evalina Nelsen at Stavanger Church.  To this union 3 children were born. 
They moved to the Pelican Rapids area where Dennis had several jobs including Coast to Coast and Farnam's Trucking.  In 1964, he started a life long career of trucking as an owner operator.
The family moved to Erhard where they were involved in the community.
Dennis loved camping and being at the family lake lot.  He was involved with organizing and being a member of the snowmobile club.  Traveling with their camper took them across the United States and Alaska. 
He liked going to music festivals and fiddler contests.  Playing his father's fiddle in the Al Siegle Band with his son gave him much pride. When he wasn't playing he could be found in his woodshop making things.
Dennis is survived by his three children: Greg (Vicki) Bauman, Hickson, ND, Denise (Bob) Hendrickx, Fergus Falls, MN, Leigh Bauman, Erhard, MN; 8 grandchildren: Amity (Jeremy) Johnson, Tyler (Ashley) Bauman, Nicolaas (Renee) Hendrickx, Greta (Matthew) Caucutt, Philip (Tiffany) Hendrickx, Anthony Bauman, Brandahlyn Bauman, Brecstan Bauman; 16 great-grandchildren: Abby, Reed, Crosby Johnson; Eman, Teddy, Lennon Bauman; Hudson, Dawson, Taelynn Hendrickx; Viviana, Levi, Mark, Lilian Caucutt; Colleen, Harvey, Dorthea Adeline Hendrickx; 7 siblings: Darlene Lee, Fergus Falls, MN, Donna (William) Nehk, Fergus Falls, MN, David (Lois) Bauman, Pelican Rapids, MN, Diane Nelson, Fergus Falls, MN, DuWayne (Sandy) Bauman, Richville, MN, Danny Bauman, Erhard, MN, DeEtte Rian, Underwood, MN; sister-in-law Joyce (Vincent) Sindt, Denver, CO; aunt Hazel Magdich, Fergus Falls, MN; several nieces, nephews, cousins and friends.
He is preceded in death by parents and wife Adeline.
Visitation: Sunday, August 7, 2022, from 1:00 p.m. to 2:00 p.m. at Grace Lutheran Church, Erhard, Minnesota.
Funeral Service: 2:00 p.m., Sunday, August 7, 2022, at Grace Lutheran Church, Erhard, Minnesota.
Clergy:  Pastor Brad Soenksen
Burial: Bagstevold Cemetery, Erhard, Minnesota
Please keep Dennis' family in your thoughts and prayers.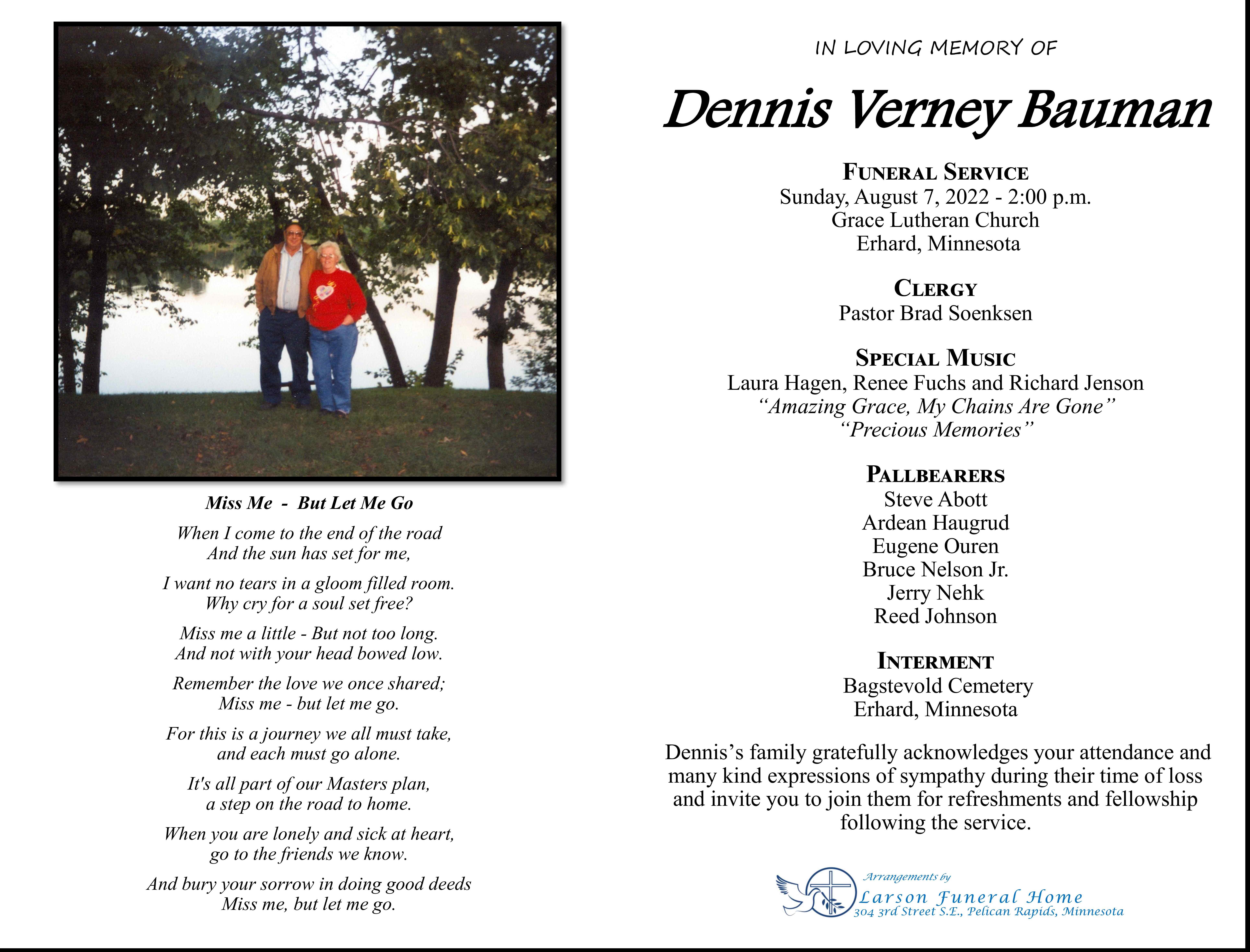 Dennis Bauman's Memorial Folder