Dean Smischny, age 92, passed peacefully on Tuesday, July 26, 2022 due to complications from Parkinson's. He was surrounded by family in his Pelican Rapids home.
Dean was born June 10, 1930 in Goodland, KS, to Raymond and Flora (Huffman) Smischny.  He was baptized at age 17 in Green Mountain Falls, CO.  He attended Manitou Springs High School, where he graduated in 1949 before furthering his education at the University of Colorado in Boulder, CO. 
In January 1951, Dean entered the Air Force in Colorado Springs, CO. He was later stationed in Nagoya, Japan. On October 12, 1952, Dean married his high school sweetheart, Valerie Ann McKee, in a ceremony at Nagoya Air Base.  He received an honorable discharge in January 1955 at Travis Air Base, California. After the military, Dean moved his wife and two children to Flagler, CO where tried his hand at farming with his father-in-law and added an additional daughter. After a year, he took a job with IBM in Colorado Springs as customer engineer. During his time with IBM in Colorado Springs, his family grew from three to six children. After his sixth child was born, he was transferred to the IBM Diamond Hill office in Denver, CO.  After 38 years of faithful service to IBM customers and having a total of eight children, Dean retired from IBM.  In 1992, he took a position with Eastman Kodak in Denver, CO. 3 years later, Dean retired from Kodak.
Dean and Valerie enjoyed spending every summer at Lake Lida in Pelican Rapids, Minnesota with their family. In 2007 they decided to make Pelican Rapids their permanent home.
Dean was a family man; sharing his love of fishing, hunting, gardening and playing cards with his children, grandchildren and great grandchildren. He was a member of V.F.W. Post #522, American Legion, Lions Club, Ducks Unlimited and Pheasants Forever in Pelican Rapids.
He is survived by the love of his life, Valerie; children: Rick (Roberta) Smischny, Deana Mosby, Suzanne Smischny, Ron (Lyn) Smischny, Denise Smischny, Tim (Stacy) Smischny, Matt (Holly) Smischny, Ann Bergquist; grandchildren: Jeff Smischny, Andy Metzler, Katie Scherer, Shannon Beck, Andrea (Nick) Tye, Sara Smischny, Nick (Jamie) DeGeest, Tiffany (Jeremy) Rivers, Weston (Tiffany) Smischny, Jennafer (Dave) Clancy, Greg Smischny, Alex Smischny, Rebecca Lemke, Josie Bergquist, Colton Bergquist, and 12 great-grandchildren.
Dean is preceded in death by his parents.
Visitation: Sunday, July 31, 2022, from 2:00 p.m. to 4:00 p.m. with a Prayer Service at 4:00 p.m.at Larson Funeral Home, Pelican Rapids, MN.  Visitation will continue one hour prior to the service at the church.
Funeral Service: 11:00 a.m., Monday, August 1, 2022, at St. Leonard Catholic Church, Pelican Rapids, Minnesota with Father Alan Wielinski officiating.
Burial: St. Leonard Catholic Cemetery, Pelican Rapids, Minnesota with military honors provided by Pelican Rapids V.F.W. Post #5252 and American Legion Post #17
Pallbearers: Rick Smischny, Ron Smischny, Tim Smischny, Matt Smischny, Jeff Smischny, Andy Metzler, Greg Smischny, and Nick DeGeest.
Please keep Dean's family in your thoughts and prayers.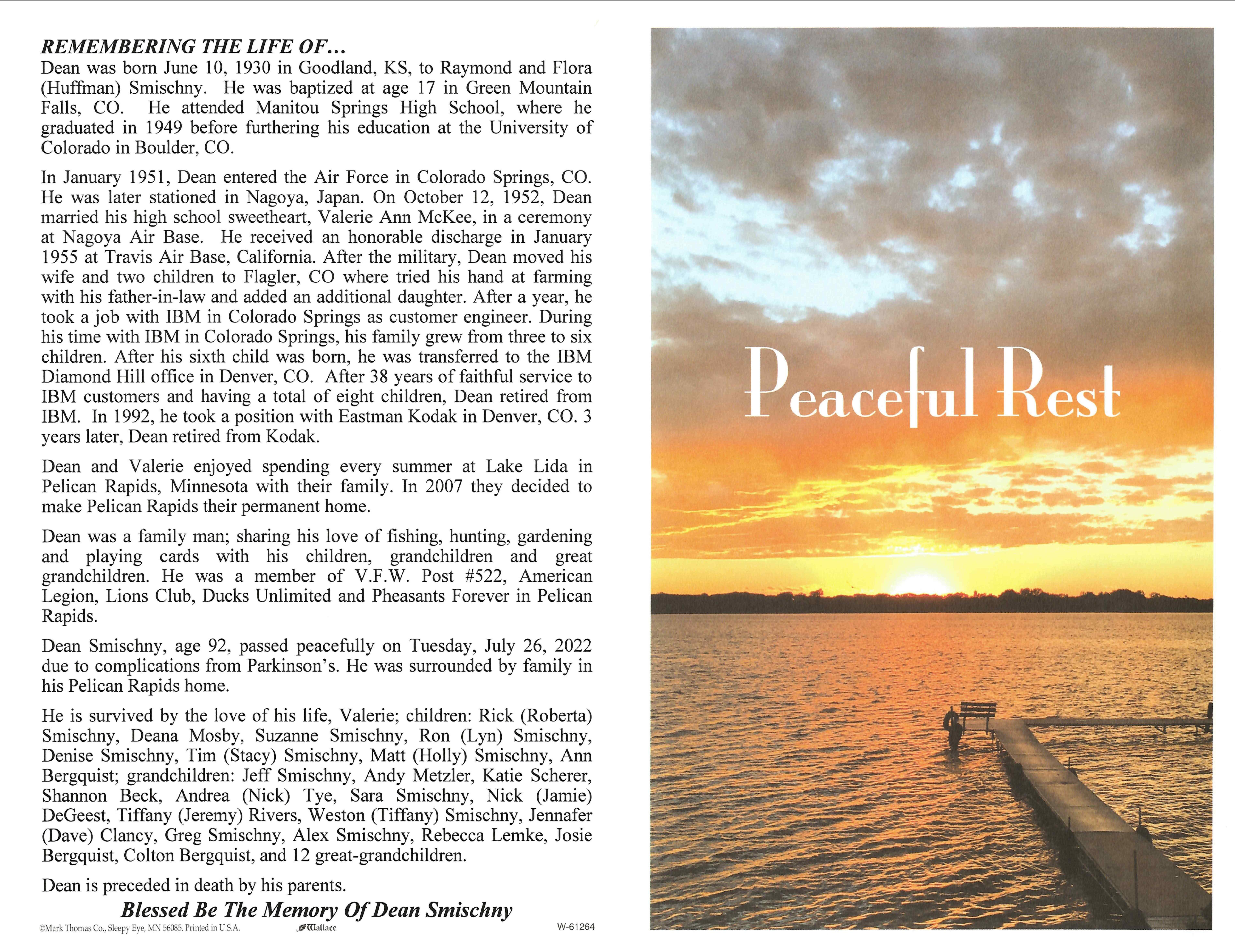 Dean Smischny's Memorial Folder