David "Dave" McDonald, age 55, of Pelican Rapids, MN, died Monday, August 15, 2022, at his residence under the care of Hospice of the Red River Valley and his family.
David Bryan McDonald was born September 10, 1966, a son of Donald and Louise (Bell) McDonald in Moorhead, MN. He graduated from Audubon High School in 1985. Dave attended Detroit Lakes Technical College.  He worked for Soberg Construction for over 20 years. He was employed at West Central Turkeys Inc. for a few years. Dave went on to start his own business; McDonald Finishing which he owned and operated for 7 years. When that chapter ended, he began to subcontract for Brad Erickson at Wall to Wall Flooring. He did this as he was able through the summer of 2021.
On May 20, 1989, David married Beth Martinson at Trinity Lutheran Church in Pelican Rapids, MN.  
David was a member of the Pelican Rapids Fire Department for 20 years and was a charter member of the Pelican River Pheasants Forever Chapter.
Dave enjoyed numerous hobbies such as fishing, hunting, woodworking, beekeeping, knife making, pen turning, cheesemaking, beer and wine making, leather crafting, and made his own aluminum foundry. He was an incredibly talented and humble man.
David is survived by his wife Beth; sons: Brett (Ashley), Moorhead, MN, Logan, Pelican Rapids, MN; granddaughter Ava McDonald; siblings: Jeanette (Rueben) Glaesman, Karen (Dennis) Rasmussen, Gary (Deb) McDonald, Terri (Jon) Larson; sister-in-law Cindy (Tim) Hart; in-laws Marv & Winnie Martinson; and numerous aunts and uncles; partners in crime Ron (Tammy) Glaesman; and other nieces and nephews.
He is preceded in death by his parents, sisters: Jackie Dankert and Donna Jemtrud, brother Jim McDonald.
Memorials preferred to be given to the Pelican Rapids High School Firemans Scholarship Fund or the Colorectal Cancer Alliance.
Visitation: Saturday, August 20, 2022, from 2:00 p.m. to 4:00 p.m. with a Prayer Service at 4:00 p.m.at Larson Funeral Home, Pelican Rapids, Minnesota.  Visitation will continue one hour prior to the service at the church.
Service: 2:00 p.m., Sunday, August 21, 2022, at Trinity Lutheran Church, Pelican Rapids, Minnesota.
Clergy: Pastor Eric Schwirian and Allen Westby, S.A.M.
Please keep Dave's family in your thoughts and prayers.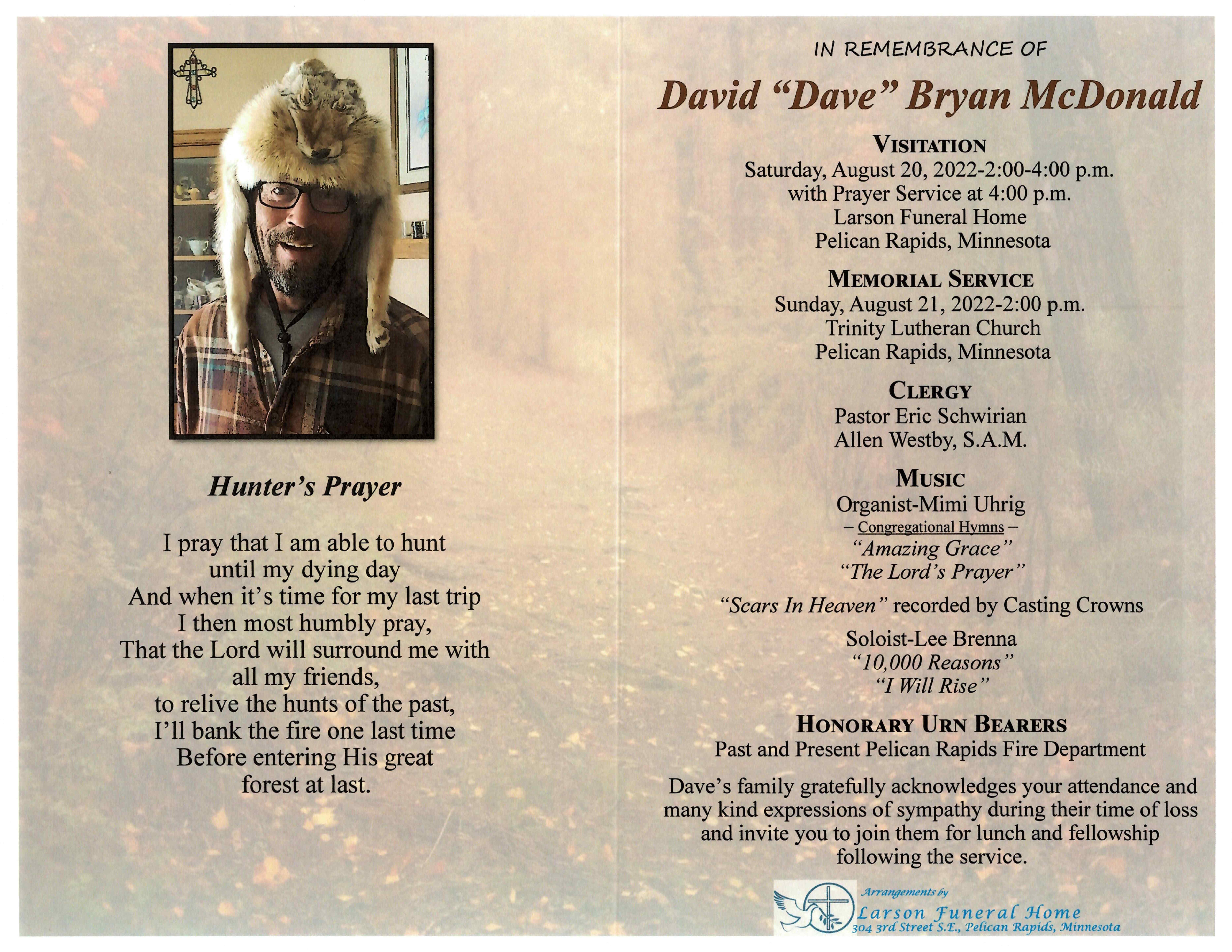 David "Dave" McDonald's Memorial Folder