Curtis Lodin, age 74, of Dent, MN, died Wednesday, August 31, 2022 at Sanford Health, Fargo, ND.
Curtis Wayne was born September 30, 1947, to Vincent and LaVerne (Olson) Lodin in Pelican Rapids, MN.  Curtis was confirmed at Faith Lutheran Church in Pelican Rapids.  He graduated from Pelican Rapids High School in 1965.  He lived in Santa Maria, CA for a short time, then was drafted into the U.S. Army, serving in Fort Sill, Oklahoma and Korea. 
On August 21, 1976, Curtis married Ellen Wilcox at Faith Lutheran Church in Pelican Rapids.  After his military service he worked at Red Owl Warehouse in Fargo, ND for 19 years, when the warehouse was closed.  Curtis then worked at the Eagles Club in Fargo, ND, Pier Construction in Ottertail, MN, and Cole Paper in Fargo, ND.  Curtis then went to Central Lakes College in Staples, MN, where he received an Associate Degree in Printing.  He worked at Perham Printing in Perham, MN until his retirement in 2009. 
He was a current member of the United Methodist Church in Dent, a former member of Faith Lutheran Church in Pelican Rapids and Christ the King Lutheran Church in Moorhead. He was a member of the Pelican Rapids V.F.W. Post #5252 and American Legion Post #17. Curtis enjoyed visiting with people.  He made many friends in the 18 years spending weekends at Ebert's Resort on Star Lake, and 6 winters in Lake Havasu, AZ. Curtis enjoyed bowling, golfing, camping, and playing pool especially with "The Pool-Hall Gang". He also enjoyed fishing and hanging out on the pontoon or with friends.
Curtis is survived by his wife of 46 years, Ellie; honorary son Josip (Martina) Sapunar, Croatia; brother Ed Lodin (Sally Tuck) Dent, MN; sister Claudia Myrvold, Fargo, ND; brothers-in-law: Charles (Barbara) Wilcox, Shoemakersville, PA; Lowell (Doris) Wilcox, Richville, MN; sisters-in-law: Carol (Rodney) Venberg, Fergus Falls, MN; Ardyce (Dennis) Purdy, Orient, OH; uncle Vernon Olson; nephew Matt (Kris) Myrvold; nieces Amy (Ron) Smith; Tina Myrvold (Matt Schellen); nephews-in-law: David (Becky) Doyle, Paul (Theresa) Doyle, Chad (Michelle) Wilcox, Craig (Brenda) Wilcox, Richard (Donna) Wilcox, Steven (Abby) Purdy; nieces-in-law: Krista (Robert) Carmean, Alana (Chad) VanWatermulen; and numerous great nieces, great nephews and cousins.
He is preceded in death by his parents, parents-in-law Lester and Carolee Wilcox, sister-in-law Barbara Lodin, brothers-in-law James Doyle, John Koepcke, Richard (sister-in-law Peggy) Wilcox. 
Visitation: Wednesday, September 7, 2022, from 5:00 p.m. to 7:00 p.m. with a Prayer Service at 6:30 p.m. at Larson Funeral Home, Pelican Rapids, MN.  Visitation will continue one hour prior to the service at the church.
Memorial Service: 11:00 a.m., Thursday, September 8, 2022, at United Methodist Church, Dent, Minnesota with Pastor Amy Strom officiating.
Interment: Pleasant Hill Cemetery, Dent, Minnesota
Military Honors: Pelican Rapids V.F.W. Post #5252 and American Legion Post #17.
Please keep Curtis' family in your thoughts and prayers.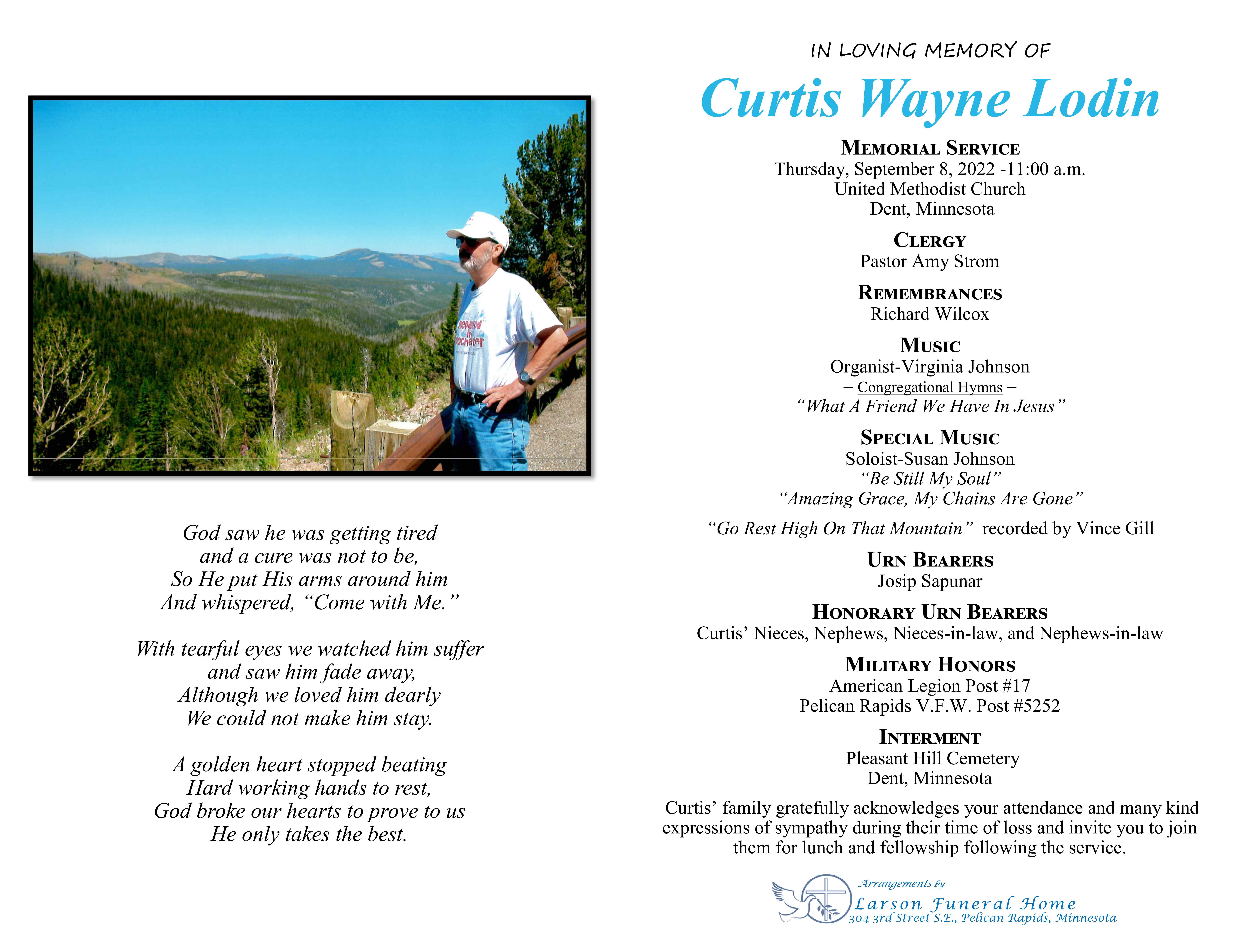 Curtis Lodin's Memorial Folder